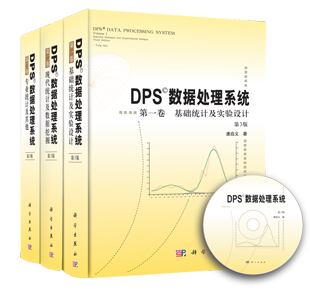 DPS Data Procession System (DPS), with self-owned intellectual property right, is a comprehensive but simple-to-use software oriented to experimental design, statistic analysis and data mining. As a research tool, DPS is originally designed and developed in DOS which could be tracked back to 1980s. From 2002, DPS provided a friendly Graphical User Interface (GUI) for researchers and data miners. Like operating on a work-platform, users can access the features of DPS via pull-down menus and exchange data through build-in data table.
1. Multi-functional. DPS is functionally comparable to mark-leading products. It includes nearly most extensive used features in SPSS and SAS. Meanwhile, in some areas such as the uniform experimental design of large samples and dynamic cluster analysis in multivariate statistical analysis, DPS is tech-leading.
2. Citations in science. The increasing number of citations in scientific papers and journals of DPS is far ahead the rest similar domestic products and comparable to Matlab and SAS in China. It has being widely applied in natural science and social science.
3. Experimental design. DPS provides various functions for experimental design, including uniform design and mixture uniform design. Additionally, original algorithm is applied in uniform design which, in uniform design, enables processing with big data up to 100 facts & 8000 levels, and in mixture uniform design xxxxxxxxxt
4. General linear mode (GLM). The GLM in DPS handles various tasks of experimental design and variance analysis. Especially, for some tasks which can not be addressed by using pull-down menu in SPSS, difficult to code in SAS, DPS provides a friendly GUI solution which is much more convenient and easier.
5.独特的非线性回归建模技术实现了"可想即可得"的用户需求,参数拟合精度高。
6. Professional statistical analysis module. Apart from classic statistical analysis modules, DPS also provides large number of professional statistical analysis module, for example, Stochastic Frontier Model, Customer Satisfaction Index (CSI) Model, mathematical ecology, biological assay, geostatistics, genetic breeding, survival analysis, hydrologic frequency analysis, scale analysis, quality control chart, ROC curve analysis and so on.
7. Friendly user interface. With the friendly GUI in DPS, you can easily edit and access your data like using Excel. Meanwhile, DPS offers you professional data analysis like SPSS.
8. Other methods. Beside those classical statistical methods, DPS also provides other features such as fuzzy mathematical methods, grey system method, analytic hierarchy process, BP neural network, radial basis function, data envelopment analysis, multiple kinds of linear programming and non-linear programming.
9. Modern statistical methods. We never stop improving DPS. According to users' actual requirements, DPS has being extended with numbers of modern statistical methods, for example, panel data analysis, time series of singular analysis, structural equation model, wavelet analysis, partial least squares regression, projection pursuit regression, projection pursuit evaluation, the methodology of gray system, estimation of multivariate normal distribution, multiple stepwise regression analysis with qualitative variables, triangle fuzzy analysis, dominance analysis, robust regression, stochastic frontier model and so on.
10. Documents. We provide a book written by Prof. Qiyi Tang as the documentation of this software package. In the mean time, this book with 1.3 million of Chinese character is not only used as documents of DPS, but also adapted by large numbers of colleges, universities and education institutes as text material of Statistics. Above all, the electronic version of this book is available online for free. Beside this Chinese book, we also provide a compact documentation in English.
11. Multi languages. In order to meet the need of international researchers and scientists, DPS provides a multi language solution. Users can simply switched user interface into English/Chinese by clicking a language switch button.